"The world is not a problem to be solved; it is a living being to which we belong. Our separateness from creation lies in our forgetfulness of its sacred nature, which is also our own sacred nature." – Thich Nhat Hanh
We live in a world where it's easy to feel separate from ourselves, each other, the natural world, and the divine. Join us for a journey in re-membering yourself within the interconnected mycelial web of life.
Whether you're newly curious about sacred plant medicine or want to deepen your knowledge, we're thrilled to invite you to attend Entheowheel's first 3-day workshop, The Ceremony & Science of Psilocybin, live streamed from Esalen.
Your guides for this Psilocybin focused experience will include:
Live from Esalen: Jyoti Ma, Xochitl Ashe, East Forest, Millana Snow, Justin Boreta, Allan Badiner, Dream Mullick, Grace Oh, and Radha Weppner.
Digitally Streaming into the Experience: Paul Stamets, Jim Fadiman, Robin Carhart Harris, Sachin Patel, Pam Krysko, and a digital transmission from Francoise Bourzat.
THE INVITATION
We invite you to come with a beginner's mind, to….
Discover the ceremonies informed by psilocybin and the science that confirms the intelligence of these fungi.

Explore the biocultural evolution of mushrooms and humanity.

Cultivate your inner wisdom through holistic preparation and integration practices.

Experience an evolution of consciousness, shifting how you see yourself and the world.

Integrate ancient tools and practices into your daily life for continued and ongoing transformation.
‍
OVERVIEW
This workshop is the first in an 8-part Entheowheel series, hosted in collaboration with Esalen Institute. Each course will focus on a different medicine – guiding participants through ancient cultural origins, ceremonial traditions and context, and integration practices, all with a trauma-informed focus.
Bridging the worlds of ceremony and science, we'll explore the evidence for therapeutic healing with psychedelics and sacred plant medicines. We'll embark on a series of Simulated Journeys (no medicines ingested) using effective ancient living technologies such as prayer, breath work, meditation, visualization, sound, movement, dance, ritual, and ceremony to induce a deeper state of consciousness and experience the non-ordinary ordinary reality.
To facilitate a range of practices, you will receive a blessing basket containing ceremonial items to support your journeys.
HONORING OUR ROOTS
We honor the role of the guides, their lineages, and the setting in which they hold their ceremonies. Whenever possible, we work with medicine carriers from the original lineages, asking their permission and guidance and foregrounding their voices.
‍
MEDICINE USE
This course is designed to provide cultural, ceremonial and spiritual context and integration practice for future journeys. It will also introduce you to ancient technologies including breathwork and meditation that allow you to access higher states of consciousness with the natural abilities of the body. This is not a course on how to trip at home or have un-guided journeys. Out of respect for the guides and lineage holders supporting your experience, we ask you to enter into a shared agreement to not partake in any illegal substances during the course.The greatest invitation is to explore the sacred spirit and wisdom of the plants, receive the teachings and practices for best preparation, and allow the integration of the experience to be the true medicine.
The integration is the medicine. —Dream Mullick
If you're experiencing acute physical or psychological trauma, this course may not be for you. Additional resources for support can be found here.
COMMUNITY
Since connection and community are central to this vision, the program offers a variety of ways for you to connect in cohorts, breakouts, and buddy pairings (optional).
VALUES & ETHICS
Diversity & Inclusion: As an expression of our commitment to bridging diverse perspectives within the sacred plant medicine communities we've created a Visionary Scholarship fund for BIPOC (black, indigenous, people of color). We offer a limited number of full scholarships for the live and live-stream events. Please apply here by 4/15/21.
Reciprocity: Indigenous tribes often model their economic and social exchanges, including their relationship with the natural world, on the concept of reciprocity. This practice recognizes the gifts we receive from the universe and offer gifts in return with gratitude. Reciprocity and our deep commitment to honoring all the influences that inform our work, is at the core of our ever-evolving model.
As an expression of this commitment, we give 10% of all revenues from the livestream to organizations committed to the preservation and conservation of sacred lands and traditional medicine lineages, including The Esselen Tribe's land restoration initiative (honoring the lands of the Ohlone/Costanoan Esselen Nation on which this gathering takes place).
PROGRAM
Click here for a link to the full program schedule.
Preparation call prior to the retreat, designed to welcome you into relationship with the ceremonial space, orient you to the science, and support you in preparing for a non-ordinary experience.

A land blessing to honor the land. Live stream participants will use ceremonial items from the Blessing Basket to bless the land where you are.

Fire ceremony and fireside chat led by wisdom-holders Paul Stamets, Jyoti Ma, Xochitl Ashe sharing stories about their relationships with mushroom medicine

Sound and somatic practice sessions focused on embodiment practices, breath work, visualization, and meditation.

Daily simulated journey offering guidance into the portals of altered states. (Jyoti Ma & Xochitl, Justin Boreta & Millana Snow, East Forest).

Earth altar building with Grace Oh, guiding an exploration of rituals and practices for altar building from natural materials.

Sessions weaving together ceremony and science with: Jyoti Ma, Xochitl Ashe, Robin Carhart-Harris, James Fadiman, Pam Kryskow, Sachin Patel and more.

Q&As and breakout sessions following all educational and experiential sessions to foster integration and connection with the community.

Follow-up calls to support integration after the workshop ends.
SUGGESTED READING
Françoise Bourzat's Consciousness Medicine is highly suggested pre-reading/listening. James Fadiman and Paul Stamets' books are also excellent references.
If you purchase your books through this link, 10% of your purchase is donated to Tree Sisters for the replanting of trees. Entheowheel does not receive any revenue from the purchase.
SPONSORS
We gratefully thank our event sponsors… MAPS, Auryn Fund, Elana Horwich, Hearthstone Collective, Zendo Project, Aja.life, Living Proof Institute, RiverStyx Foundation, and DOUBLE BLIND Magazine.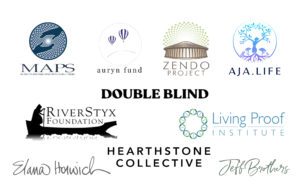 Artwork by Autumn Skye